DEAN'S WELCOME SPEECH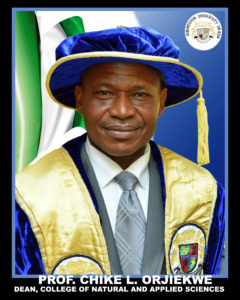 It  is with great pleasure that I welcome you to the Oba Adeyeye Ogunwusi Ojaja 11 College of Natural and Applied Sciences
Our vision as a college is to be a center of academic excellence in science through teaching, research and knowledge production in response to contextualized national and global needs.
Oba Adeyeye Ogunwusi College of Natural and Applied Science is one of the foundation Colleges established at the inception of Igbinedion University in 1999. It is comprised of four departments namely:
Departments of Computer Science and Information Technology.
Department of Microbiology.
Department of Chemistry.
Department of Physics.
All the departments had full accreditation status as at last NUC reaccreditation program in December 2017.
The college has a staff strength of 34 comprising of 26 academic staff and 8 non -academic staff on its pay roll. Over the last 19 years the College has graduated quality scientists who are making waves in their different fields in the industry, academia and research institutes.
Once more, welcome to Oba Adeyeye Ogunwusi  Ojaja II College of  Natural and Applied Sciences.
Prof. Chike Orjiekwe
Dean (Oba Adeyeye Ogunwusi College of Natural and Applied Sciences).