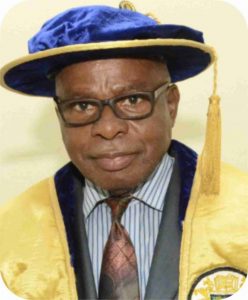 Prof. Longy Anyanwu Dean, College of Natural and Applied Sciences
Dean's Welcome Message | 2022-23
I have the honor and pleasure to extend to you a very warm welcome from the College of Natural and Applied Sciences of Igbinedion University, Okada, Nigeria's Premier and leading private University.
Our mission and goal of teaching, research, and service to the community, engender the pursuit of academic excellence thru the proffer to our students a holistic University experience that equips them for productive careers and life-long learning. At the College of Natural and Applied Sciences, our motto is culture for sustainable service, with global perspective and impact.
The college encourages international interactions through participation of the students in intellectual discourses with students and faculty in other countries. The Global Outreach Programme, a brilliant initiative of the university, provides an excellent opportunity for students to travel and learn from their counterparts from all around the world, allowing for a more potent exchange of knowledge and yes, even on culture and beneficial networking. Every single member of the staff aspires to provide our graduates with the skills of learning new ideas; designing and perfecting experimental techniques, as well as performing correct data analysis and critical thinking.
Currently, the College comprises 7 departments with all 8 fully accredited undergraduate programmes, and 9 fully accredited postgraduate programmes. The 7 departments include:
Department of Biochemistry (housing B.Sc., PGD, M.Sc., and Ph.D. programmes),
Department of Biological Sciences (housing B.Sc., PGD, M.Sc., and Ph.D. programmes),
Department of Chemical Sciences (housing B.Sc. programme),
Department of Computer Science and Information Technology (housing B.Sc., PGD, M.Sc., and Ph.D. programmes),
Department of Cyber Security (housing B.Sc. programme),
Department of Software Engineering (housing B.Sc. programme), and
Department of Physics.
By choosing a career in the sciences, you are joining a remarkable community of faculty, staff, and students who are excited to help you develop the skills and experience needed to pursue your career goals.
Take advantage of all the resources available to you, both within the college and at the university. CNAS houses an incredible staff of tutors and advisers who are an invaluable resource to help you foster a successful IUO experience. Some of our students call the CNAS family a "home away from home," as it provides a welcoming atmosphere where students can gather to study, relax, and socialize, in addition to utilizing the many services provided.
We pride ourselves in providing superior education and training for our students in the Bachelor, Master, and Doctoral levels. To complement the qualitative education, our laboratories are sufficiently equipped with current and advanced tools and machines beyond averagely acceptable standards in other universities.
​​​We encourage you to visit the academic (Main) campus and meet our faculty. We are confident that our programmes will meet your professional and scientific aspirations.
Explore faculty web pages, investigate their interests that align with yours, and send a faculty member an email asking to meet to discuss study and/or research opportunities. Our alumni always reflect on the tremendous difference that those connections with peers, staff, and faculty made in their careers. As a team, we can and we will continue to shine.  Do enjoy your year and your academic journey. We want to hear from you, so don't hesitate to contact us at [email protected].
Again, welcome and best wishes for a productive year.
Rev. Prof. Longy O. Anyanwu
Dean, College of Natural and Applied Sciences
Igbinedion University, Okada, Nigeria